Back to Posts
On Parade
---
It's a long time since I was last on parade, but with a husband in the Army I'm very familiar with the need for 'last minute' repairs prior to a big occasion. So it was when Jamie Richards got in touch with me about repairing the rug for the Parachute Regiment's ceremonial pony 'Neddy'. Fortunately, I'd had experience with ceremonial horse blankets when repairing a Household Cavalry shabraque on the Repair Shop (Series 5 episode 31), so when Jamie bought the item in, I was able to assess it and work out quite quickly what it needed.
A close inspection showed that the rug had had a tough life. Obviously Neddy has been out in the rain on some parades and the blanket hadn't been properly dried out. This had caused some creasing in the wool of the rug, but worse had resulted in some deterioration of the embroidery. When I briefed Jamie, I explained that it wasn't a simple matter of a few stitches here and there and would take a while to do properly. Thankfully Jamie being an experienced Corporal had built in sufficient time and so I made a start.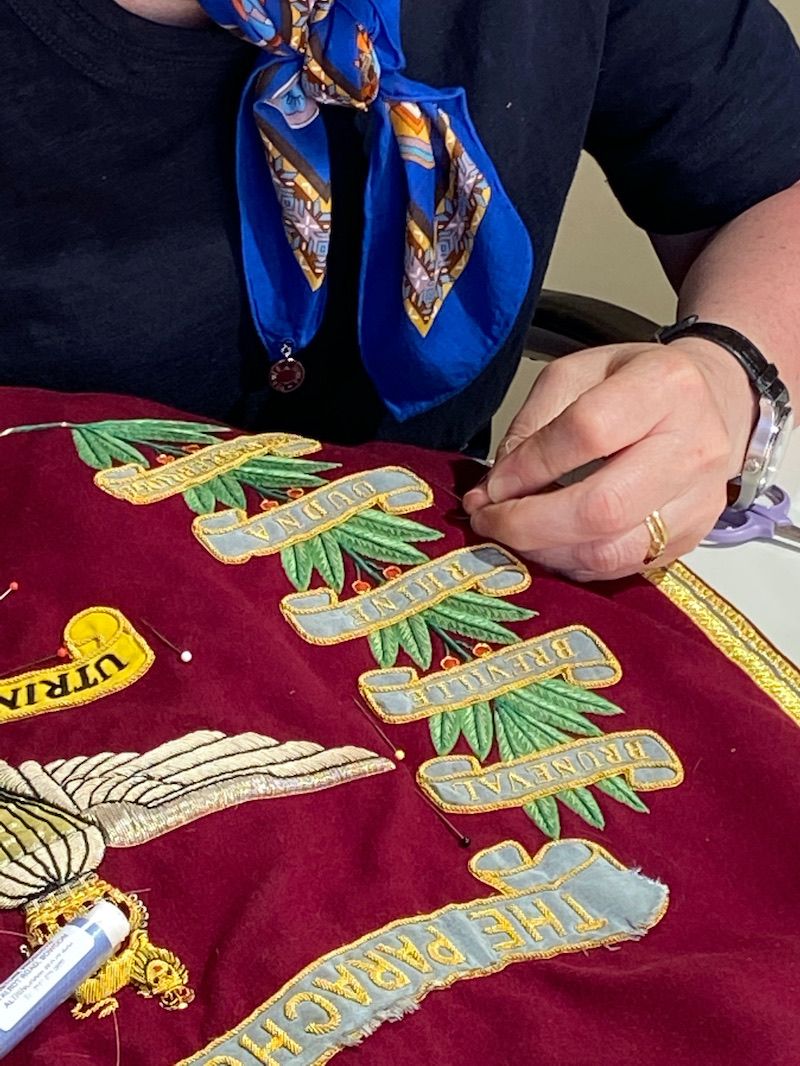 One of the challenges with repairing an item like a lined rug is how to repair without taking the item completely apart to do it in the way the original work had been done. I've learned a few techniques to do this and set about repairing the goldwork, applique and a few loose stitches. In one or two places it was a bit close run to find sufficient material left to allow me to stitch it back in. But I managed to get it done, with a curved needle and sore fingers – wool horse rugs are made of tough stuff!
Jamie collected the rug in time to dress Neddy for the Colours Presentation parade:
"Thank you so much for sorting out our ceremonial rug! It looks a billion times better! Without you I honestly don't think we would have been able to get the rug repaired in time for our colours parade. So for that I really do thank you!"